How to Black Out Text in PDF Files
If you or your business handles sensitive information, you probably need some advanced PDF editor to help you blackout text or image snippets. While you can always do this on the Adobe Acrobat app, it requires a premium subscription to edit texts or introduce redaction templates. In situations like these, a PDF redactor tool might just be one of your best options. While many advanced applications come with this functionality, the PDF Redactor stands out with its awesome suite of features and incredible offerings. Because this tool is available for free if you're using Windows devices, you can easily edit any text without spending a whopping sum on a premium subscription.

In the following few sections, we will discuss PDF redactor in detail underling the features that help it stand ahead of competitors.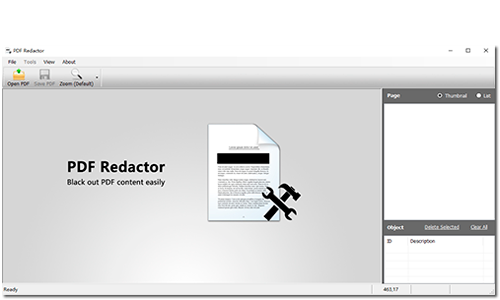 Download PDF Redactor Now!
Features at a glance

As mentioned already, this PDF Redactor stands out with its unique range of features. In case you are planning to use the tool and wondering how it works for blacking out text, here's all you need to know:


PDF Redaction and Black Out


This is the general functionality that will help you blackout any section of the PDF document be it an image or a text snippet. Just select the text, click the Redact option, and you are good to go. In case you are looking to blackout text or images, the default blackout may be a good option.

Alternatively, if you are looking to add redaction in any other color, then too, this software comes with all the provisions. It will barely take you a couple of seconds to customize the redaction colors and if you need any help, you can always refer to the handy video tutorials. These tutorials are extremely straightforward, and they help figure out how to operate the many different features of the PDF Redactor tool.


Text editing

This is another incredible function of the tool that not just lets you edit existing text, but also enables you to add new text blocks and images. Of course, there is a cap on the number of documents you can edit this way. However, because the cap is at the higher end, you can typically use it to handle your organization's content and other sensitive information. In the event you exceed the cap, you can always subscribe to the premium subscription option that simplifies text editing and makes it even more hassle-free. The premium plan is available at an affordable price starting from $29 which seems a pretty decent deal when compared to Adobe Acrobat.


Tutorial Videos


Are you dealing with PDF text blackouts for the first time? If that is the case, then you might want to use the FAQ section of this website or check out their incredible tutorial videos. Either way, you will find a holistic insight into the various approaches you can adopt. Additionally, you get some nifty editing hacks that will help you tackle the tool better, especially when we are considering multiple documents. The videos are self-explanatory and it will barely take you a few minutes to understand how to work and operate with this tool.

Check the Video Tutorial Here

If you still have queries, you can always reach out to the responsive customer support team who will readily address your concerns with the highest priority. The company believes in prioritizing customers, so you will barely have a doubt or concern that goes unanswered or unaddressed.


Affordable Premium Plans


If you are handling large PDF files and have multiple files that need to be processed monthly, you might want to check out the Premium plan from the brand. At $29 USD, the plan is affordable, to say the least, and it comes with plenty of additional offerings that will simplify your PDF editing experience with PDF Redactor.


Bottom Line


PDF Redactor is your one-stop PDF editing tool if you're looking to handle sensitive PDF documents and the likes. Because the app comes with tons of editing and redaction functionalities, it'll barely take you a couple of minutes to start operating it. What's more, you can also opt for a premium subscription in case you need to edit larger volumes of text. Overall, we were impressed by the majority of the functionalities, and given by its current popularity, the tool is here to stay.

Download PDF Redactor Now!